SD2K Valet Unveils SD2-Kade Solar Powered Sign at NPA 2023 in New Orleans, LA
September 19, 2023
Game Changer Eco-Friendly Cost-Effective Light Solution for Valet Parking Industry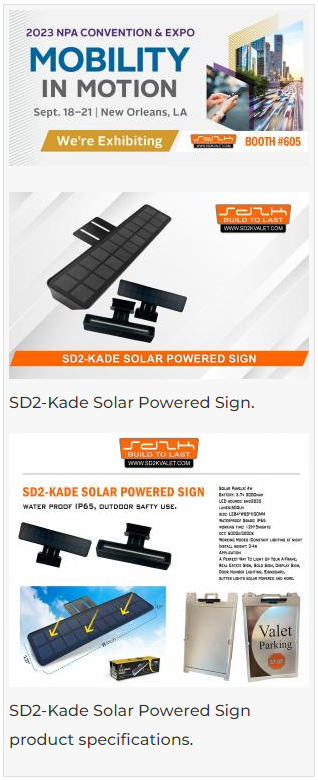 NEW ORLEANS, LOUISIANA, UNITED STATES, September 19, 2023/EINPresswire.com - OES Global Inc., a leading global company that operates and manages a diverse portfolio of B2B and B2G eCommerce niche industrial supply brands, announced today that its brand, SD2K Valet, has launched SD2-Kade Solar Powered Sign, a game changer light solution in the valet industry that helps remote valet businesses without access to an electricity port operate more efficiently, as well as those with access, save the cost of electricity.
SD2-Kade Solar Powered Sign is the perfect green energy efficient solution for easily illuminating outdoor valet display signs. The sun's energy powers the solar panel all day and converts it to DC energy and stores it in a battery, saving the cost of an electric bill. The light automatically comes on at dusk and deactivates at dawn. SD2-Kade Solar Powered Sign is waterproof, 11" L x 2.27" W x 1.1" H, easy to install and available online at SD2K Valet.
"We have a longstanding and proven commitment to providing innovative solutions in the valet industry. SD2K Valet products improve the efficiency of valet parking operations," says Melissa Schechter, CEO and founder of OES Global Inc.
SD2K Valet offers heavy duty and rust proof valet equipment that is built to last. It provides best-in-class products to fully set up a valet parking company from complete bundles including podiums, umbrellas, key boxes and vertical sign panels, to replacement parts, valet essential accessories and LED lighting. The nationwide shipping network from three distribution locations in Florida, Texas and California ensures coast to coast swift deliveries and reduced transit times.
The company will exhibit in booth 605 at the National Parking Association (NPA) Convention & Expo on September 19 – 21, 2023 at the New Orleans Convention Center, New Orleans, LA.
Schechter says, "We are thrilled to be in New Orleans at NPA 2023 and are here to listen to your needs and provide you unique solutions. Our SD2K Valet advanced technology enables us to co-innovate and offer complete customization services that help your valet business standout above the rest."
SD2K Valet will launch and release five additional breakthrough valet product solutions at NPA 2023.
OES Global Buys Building in Pompano Beach, Florida, and Moves HQ
POMPANO BEACH, FL, UNITED STATES, August 3, 2023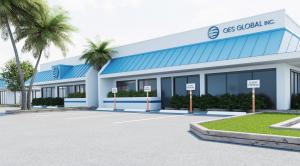 Melissa Schechter, founder and CEO of OES Global Inc. today announced that it has purchased a 10,000+ sf building located at 1935 NW 18th Street, Pompano Beach, Florida 33069 that will serve as the company's new headquarters, warehouse and showroom. The relocation of its corporate headquarters from Fort Lauderdale, Florida, to Pompano Beach, Florida, is effective immediately.
Schechter says, "We have a long record of success in our state and Broward County and are proud to call the town of the City of Pompano Beach home. We look forward to collaboration with our local community and many more years of success with our customer-centric team in our new headquarters."
Founded in 2014, OES Global is a woman-owned $10 million+ multi-brand portfolio company of fast-growing B2B and B2G industrial supply eCommerce brands in the traffic control, parking and valet supply, as well as occupational hydration sectors, that sustains a high organic growth rate of 30%.
Traffic Cones For Less, its online traffic and parking brand, specializes in providing cones, delineators-posts-panels, signage, barricades and parking related products. Some best-known brands include JBC Safety Plastic, Cortina and Lakeside Plastics.
SD2K Valet, its online valet parking brand, specializes in providing podiums, umbrellas, key boxes, vertical sign panels and accessories.
Hydration Depot, its online occupational hydration brand, specializes in keeping North America's industrial workforce cool and hydrated. Some best-known brands include Gatorade, Sqwincher and Propel, as well as others.
Customer-centric OES Global meets the unique needs of thousands of clients in the construction, hospitality, aviation, education, valet and parking segments, as well as hundreds of governmental and industrial clients. The company's hyper-competitive advantages include co-innovation, proprietary technology, exclusive and high-quality products, low prices, low minimum free freight orders and fast shipping from its distribution facilities located throughout North America.