Building Your Brand with Traffic Safety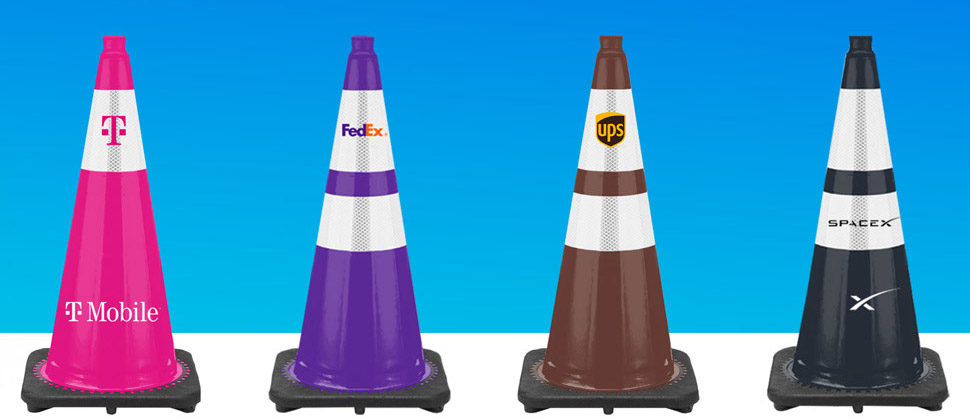 When you google why corporate branding is essential, there are almost as many responses as companies. Yet, a common thread underlies all definitions, and that is trust.
Everything that goes into branding—from your company's vision and mission to your tagline and logo—aims to build trust. This could be trust that you are the safest car manufacturer, trust that you provide the best internet, or trust that you are the best local painter. Branding aims to create trust that yours is a company that customers and employees can count on to have their best interests at heart.
The second truism that anyone experienced in corporate branding will tell you is that the strength of your brand lies in attention to the tiniest details. These minute points help create brand recognition, which is why companies spend thousands of dollars comparing the impact of one synonym or type font over another.
Of course, the ultimate goal of brand recognition is to earn brand loyalty, i.e., to have consumers trust your brand and choose your product over those of your competitors. This kind of trust takes more than a good tagline and pretty logo. Today, more than ever, consumers want to know what you stand for. One key thing that tells them this is where and how your logo appears. For example, professing to be environmentally conscious but affixing your logo to plastic, nonrecyclable water bottles will not earn consumers' trust. Nor will asserting that you care about your customers' and employees' safety—only to have them find dirty, overturned traffic cones and torn, hard-to-read safety signage at your facility.
Safe & Sound
From a branding viewpoint, your traffic safety equipment says a lot about your company—more than you may realize. What you also may not realize is that safety materials provide a subtle but significant branding opportunity.
Let's say you have traffic cones directing and redirecting traffic and signage, such as Handicapped, No Parking, Curbside Pickup, or Pedestrian Crossing, in your garage, parking lot, or roadway. Take a close look at them. Do they carry high-quality reflective material that is visible in all weather and lighting conditions? Is the type large, clear, and professionally applied? What about the material? Is it solid enough that it won't be overturned by a slight bump or high winds, posing an unmarked safety hazard? Are the cones high enough to be seen? What about the color, it is rich and vivid or faded and dirty? Do your traffic cones and safety signage carry your logo in the right font and PMS color, announcing to visitors and staff that you are proud of your efforts to keep them safe? And don't forget your fleet vehicles that require safety cones. Are they projecting a positive brand image wherever they go and whenever they are needed? If you answered no to any of these questions, you should stop and ask. "Why not?"
Poorly constructed, neglected traffic control equipment and safety signage:
Create a negative first impression and looks unprofessional
Tell visitors and employees that their safety is not a priority
Show the world that the appearance of your venue, fleet vehicles, or worksites isn't important to you
Deliver the message that you don't care about your own brand
Show your company is not detail-oriented
Make people wonder that if you so easily overlook safety, what other details might you be willing to overlook
Show a lack of good, effective communication
Call into question the stability of a business that can't afford safety materials in good condition
Cause people to wonder if you don't care about safety, what else don't you care about
Tell employees that it is acceptable to be irresponsible, sloppy, and pay little attention to important details
Erode trust in your brand.
Now, consider how offering durable, high-quality, vibrant, and esthetically pleasing traffic cones and safety equipment could reverse this negative messaging and replace it with a favorable impression of your company and your brand. Imagine the impact on visitors of:
Traffic cones with your logo prominently displayed in eye-catching, brand-matched Pantone colors
Custom-branded reflective traffic cone collars assuring your logo is correct per your brand standards and is visible at all times of the day and in all weather conditions
Clean, attractive safety signage clearly communicating that your brand is looking out for the safety of each passerby.
Fleet vehicles decked out in durable, PMS-colorful traffic cones sporting your logo, proudly serving as positive brand ambassadors.
The ways you can use high-quality traffic control equipment and safety signage to build trust and positively reinforce your brand's image is nearly endless.

---
If you are looking to add, replace, or update your traffic cones, delineators, traffic control, crowd control, fleet vehicle, and/or other safety equipment and signage, visit www.TrafficConesForLess.com. We carry the highest quality items and are the only supplier to have branded, Pantone-matching color cones and full-color reflective collar logo capabilities.
Not sure what you need when it comes to traffic and safety materials for your concert venue, theater, valet stand, vaccination site, sports stadium, office complex, or other service or facility? No problem! Our friendly staff is waiting to help you make your selection at affordable prices! Contact us today.