Gatorade VS Sqwincher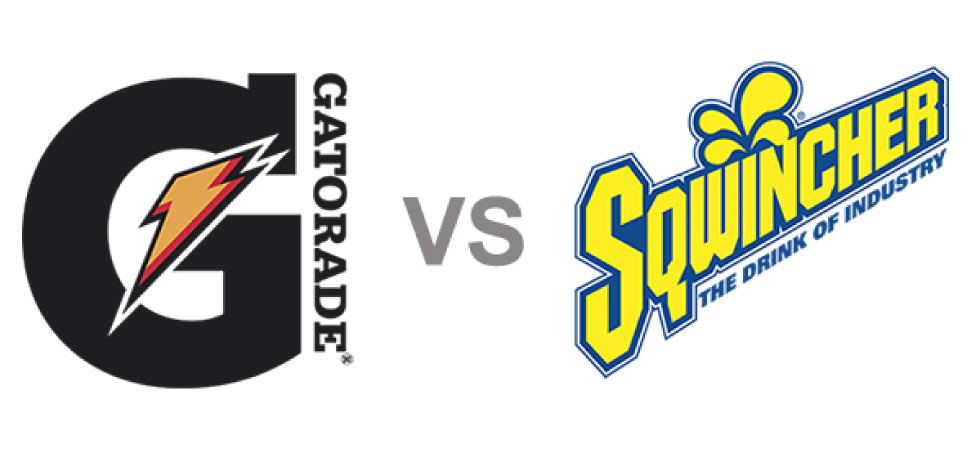 Gatorade - Sqwincher History: Gatorade was developed in 1965 at the University of Florida for use by its football team (Florida Gators). The football team credited Gatorade as having contributed to their first Orange Bowl win over the Georgia Tech Yellow Jackets in 1967 and the rest is history. Sqwincher was later developed in 1975 to compete against Gatorade as an alternative electrolyte sports drink. The original versions of both products feature a combination of water, sugar, sodium and potassium, designed to replenish the carbohydrates lost through exertion, and replace the fluids and electrolytes lost in sweat.
The formulation of each is similar between the two, but Sqwincher products do contain more electrolytes than Gatorade. Both Gatorade and Sqwincher now offer low sugar and zero options.
Gatorade makes Gatorade, G2, Propel, Gatorade Zero
Sqwincher makes Sqwincher, Sqwincher Zero, EverLyte
Gatorade and Sqwincher product specifics:
Gatorade: The original electrolyte replacement beverage. The original flavor was lemon lime and to this day is the most popular. The formulation consists of sugar, sodium, potassium and magnesium.
G2: Gatorade's low sugar option. The same electrolyte formula found in Gatorade, with half the calories.
Propel: Propel Electrolyte Water is a low calorie/zero calorie electrolyte (sodium and potassium) water beverage and contains vitamin B and antioxidant vitamins C & E to help metabolize energy and support an active lifestyle. The new Propel Vitamin Boost contains 10 calories per bottle, but offers 100% of the recommended daily value of Vitamins B3, B5, B6, C and E and contains no artificial sweeteners, colors or flavors.
Sqwincher: Provides unique product formulations, including Sqwincher, Sqwincher LITE and Sqwincher Zero. The development of Sqwincher was the result of research that goes well beyond quenching thirst to deliver rehydration for consumers in all consumer demographics and segments, according to Sqwincher. Because Sqwincher has focused the majority of their marketing and research to government, military, utilities and other industrial users many B2C customers may not have heard of Sqwincher, but it's a well-respected and much used product in these fields. Sqwincher also offers a larger selection of flavors (than Gatorade), along with more packaging options which includes powder packs in various sizes, fast packs ( small packs that double as a cup), liquid concentrates and a variety of individual pack sizes, better suited to the container size that the product is being used in. Gatorade does have a more limited selection of size packs and flavors.
Sqwincher EverLyte: Sqwincher EverLyte Sticks were formulated as a lower sugar option positioned between regular Sqwincher and Sqwincher Zero. They're naturally sweetened, naturally flavored and they contain NO added colors or dyes!
Sqwincher Zero: Qwik Stiks and Fast Packs A sugar free electrolyte drink mix, in single serve packages. Sqwincher Zero is formulated with the same electrolyte blend found in the original Sqwincher, minus the sugar.
Available in 2 package options Qwik Stix 20 oz single serve and 8 -10 oz single serve, both are added to water.
Sqwincher also has the very popular Sqwincher Sqweeze products, which are electrolyte freezer pops. Already premade, no water to add, just freeze. Gatorade does not currently have a freezer pop.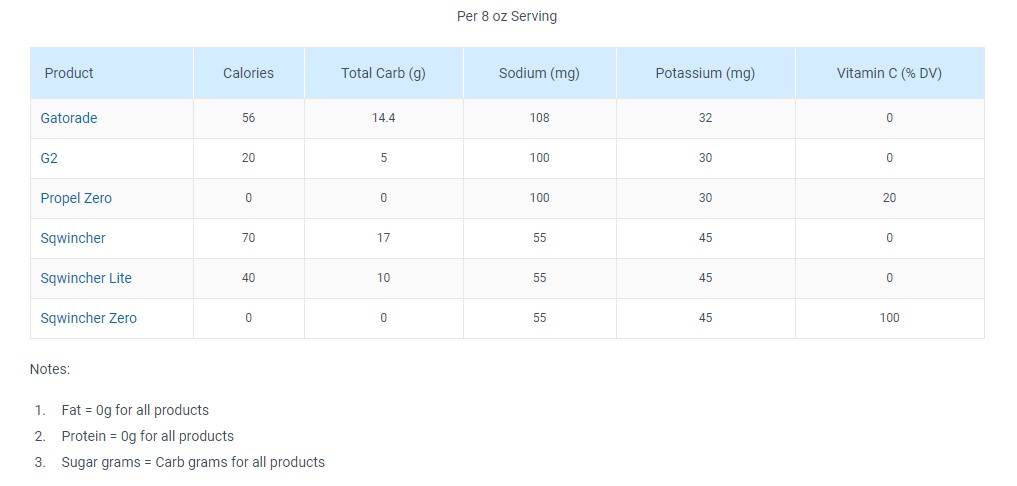 ---
Are you looking for supplies to keep your workers cool and your budget intact while minimizing your carbon and plastic footprint? HydrationDepot.com has you covered. Contact us to place your order today. Your staff, your accountant, and Mother Earth will thank you!