Never Underestimate the Power of a Sign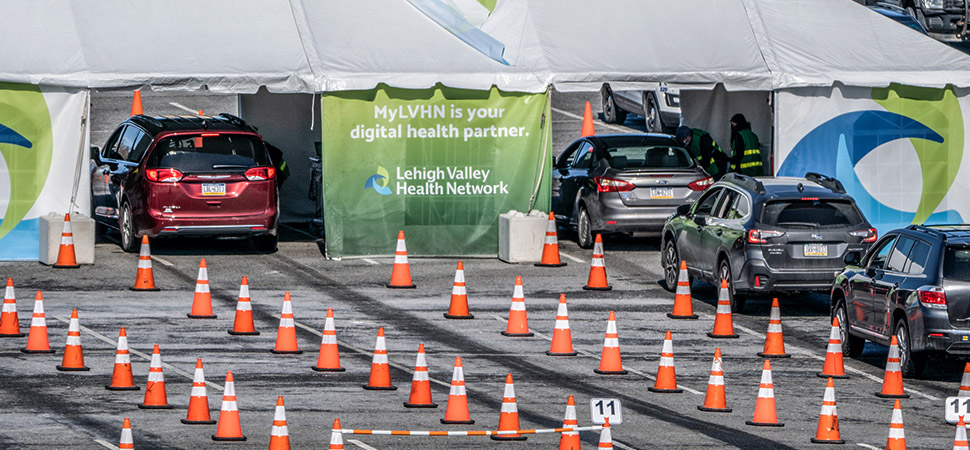 On March 2, U.S. President Joe Biden assured the American people that the country is on track to provide coronavirus vaccines for every adult by the end of May. This will require an estimated 260 million vaccines.
To fulfill this mission, vaccination sites are being set up nationwide. Some mega sites, such as Dodger Stadium in Los Angeles and State Farm Stadium near Phoenix, are poised to vaccinate at least 12,000 people per day. Meanwhile, small towns and rural areas with unincorporated populations are setting up sites that draw people from a 50-plus-mile radius. The organizers of these vaccination sites all have a common need—to ensure smooth traffic flow.
When Going With the Flow Becomes Impossible
Keeping traffic flowing, whether cars or people, is essential to a well-run vaccination clinic. Unfortunately, with all that goes into setting up a site, the importance of traffic flow is sometimes overlooked or drastically underestimated.
Take Dallas Fair Park, for example. The organizers were on course to vaccinate 1,000 people an hour on opening day. Instead, what ensued was a traffic nightmare. Thousands of cars jammed the site, clogging the artery streets. People were forced to wait three to four hours just to get to the site entrance. It was a lesson learned the hard way.
"On day two, we improved the traffic flow," Christian Grisales from Dallas County Health and Human Services told CBSN. "Today, when people arrived, they saw signs outside the park that said Gate 8 for second doses and Gate 2 for first doses." The improved signage worked wonders, dropping the average time to get the vaccine to the originally estimated one hour.
Traffic flow was also an unexpected issue at a site in Puerto Rico. "We opened the gates and were ready for 600 to 800 people; we vaccinated 1,258 people that day," Maj. Gen. José Reyes, Puerto Rico National Guard's adjutant general, told the Wall Street Journal. "We learned we needed to work on the parking lot [and figure out] how to control the traffic," Reyes said.
At University Mall in Tampa, FL, two-mile traffic backups and vaccination wait times of up to five hours, even for people with appointments, forced lawmakers to close down the vaccination site.
Similar stories abound around the country, as overwhelmed vaccination sites report gnarled traffic, hours-long waits, stressed volunteers, and frustrated patrons.
More Than Headaches
Lacking essential traffic flow and control measures at your vaccination site can lead to more than just traffic migraines. More severe consequences of underestimating your needs can include increased risk of:
Traffic accidents
Pedestrian injuries
Onsite health emergencies, such as heart attacks and strokes, caused by stress
Local business complaints
Lawsuits alleging personal injury or even wrongful death.
The good news is that the right traffic flow supplies can help you avoid all of these.
In & Out
Of course, your traffic control needs will vary slightly depending on yours is a drive-thru or a walk-up clinic. However, supplies to direct traffic entering, parking, and exiting are essential for all types of sites. These include:
Traffic Cones. These need to be heavy enough to prevent being knocked down or easily moved, bright enough to be seen in all weather, and placed frequently enough not to allow traffic to enter or exit at will.
Barriers. These should be placed to divert traffic as necessary and to prevent entrance to restricted areas. Barriers can also surround stations and staff for added safety in outdoor settings.
Safety gear. This includes light wands for directing traffic and safety vests that are visible in all weather and daylight conditions for outside personnel.
Show Them a Sign
The CDC suggests the following areas will require signage:
Walk-in (indoor or outdoor)
Parking
Eligibility screening
Clinic Entrance
Waiting Area
Registration
Medical Screening Area
Payment
Vaccination
Post-Vaccination Waiting Area
Exit
Curbside or Drive-Thru Clinic
Parking
Entrance
Vaccination
Post-Vaccination Waiting Area
Exit
Depending on state and local mandates for COVID-19, additional signage may also be needed to remind people to wear masks and practice physical distancing and to mark hand sanitation stations.
Signs are great. But what if you are outside in an area without walls or surfaces to hang walls? No problem. The right traffic supply vendor can resolve the issue quickly by offering an array of delineators or vertical panel signage options that are entirely customizable and available in whatever quantities you require.
Choose the Right Partner
Speaking of vendors, your choice of traffic supply partner can be the difference between a smooth setup and a logistical nightmare. Besides being able to source everything you need at a reasonable price, your supplier should have experience providing traffic supplies for events of all sizes, from concerts and sporting events to marathons even haunted houses. You also want to make sure the vendor has a history of delivering orders on time to locations similar to the one where your site will be, whether it's a stadium, parking lot, or field.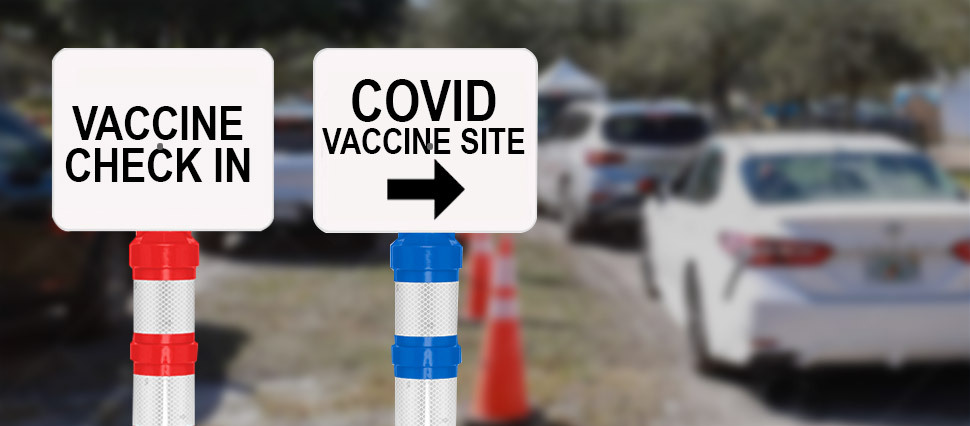 ---
Make sure you have all the supplies you need to set up your vaccination site. Visit our one-stop shop for CDC- and FEMA-recommended signage and more vaccine site essentials at TrafficConesForLess.com or call us at 888-388-0180.
Still unsure what you need? No problem, our vaccination site experts are here to help!